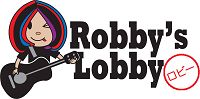 Heyhey In Rockers and Welcome to The Lobby for this month's visit here in the pages of The Mighty In Rock. It's a cold February here in New York State. My wife is in Japan for a month taking care of some family stuff, so I'm here in Buffalo with my daughter for the next few weeks as a "solo" Dad until she returns. Lots of homework, after school activities, her weekly enniki and some great time hanging with the kid! Goo Goo Dolls are in the processs of finishing odds and ends for our new album which will be out this Spring to coincide with extensive touring which begins in July here in North America! Some singing, some overdubs and mixing and mastering is all that stands between you and a new batch of Goo Goo Dolls songs! 
Right as the pandemic was beginning in 2001 a very good friend of ours and a very influential radio promotions person named Bruce Moser passed away during quarantine. Bruce was a great friend and ally of Goo Goo Dolls and our Buffalo based cultural not for profit organization Music is Art for many, many years. He was influential and very important in the careers of artists such as Bruce Springsteen, U2, Mellissa Etheridge, Bryan Adams, and dozens of others over many decades of business at his Could Be Wild radio record promotions company. Could Be Wild was based in an old house in downtown Buffalo filled with platinum and gold albums all over the walls from past campaigns they had worked on. 
As 20-year-old kids we would walk in that old house and the music industry (and our chance to have a place in it) seemed very real to us. There was also a dusty old warehouse connected to the house that was converted into a small recording and rehearsal space, many of our early songs and records were rehearsed and written in that dirty little warehouse. As a matter of fact, most of our radio breakthrough album "Boy Named Goo was partially written in that space as we worked with producer Lou Gioridano on pre-production for the album. Bruce and his partner Doug let us rehearse there for years and help us become the band we are today. 
As NYS has lifted mask mandates and capacity limits, we were able to have a celebration od Bruce's life and get together with friends and family to have some closure after Bruce's passing. A host of local bands appeared as well as legendary rocker Willie Nile closing the night's performances. I performed a few songs on my acoustic guitar for the folks in attendance and got to see a lot of faces I hadn't seen in many years, since well before the world shut down for Covid. It's nice to feel like things are getting to a point where we can go about our lives in a bit more of a normal way. 
As the Cherry Blossom season is drawing near, we are meeting with our Buffalo Cherry Blossom Festival committee to put together plans for our Sakura Matsuri for 2022. The last 2 years have been done virtually and it will be in person this year, so we're back to planning an in person event. We will be having a bit of an abridged event as we begin the planning, but once again, it feels amazing to be planning for a gathering of people to celebrate the coming of Spring! Unlike in Japan when the festival occurs when the Cherry Blossoms bloom here in the US, we tend to make a date and hope the blossoms cooperate with the timing! Our fingers are crossed, and we look forward to celebrating our 2022 Sakura Matsuri with our local community here in Western New York. 
That's about it for this month's visit to The Lobby, I'll have some GGDS studio shots to share with you all next time we meet up as I head to NYC to finish up vocals on the new album next week! Have a great March, and let's plan on getting together next month and doing it all over again! 
All the best 
Robby 
●グースのサイトはこちら! 
www.googoodolls.com 
●ロビーのサイトはこちら! 
http://robbyslobby.weebly.com/