Hey hey In Rockers and Welcome to The Lobby, a few days from the Holidays at the time I'm writing this column and things couldn't be busier here at the Robby T. household here in Buffalo, NY as we prepare for the holidays! 
GCR Audio, which is our recording studio here in Buffalo has been looking for a Yamaha C7 Concert Grand Piano for our clients for well over a year, and after an exhaustive search we found a 2011 C7 in Chicago, Illinois that we had shipped here to our studio this week! Getting a grand piano from Illinois to NY was quite a task, we hired a couple of shipping companies and some skilled piano movers as well as our expert staff to get the over 1000-pound piano into our building and up to our 2nd floor main studio space. The piano arrived crated and on a "piano sled", kind of like a big skateboard that allows you to move the piano on flat surfaces. But once we reached the staircase there was no way to move this monster but picking it up and carrying it up the 20 stairs to the studio entrance. So that's what they did! I've included some photos from the move, all in all it was a crazy afternoon for all involved, but now we have an amazing grand piano ready for the city of Buffalo to make beautiful music on! 
Tomorrow AM we set out to record and shoot an internet holiday special with local pianists and vocalists performing on our new piano in a holiday themed program we're releasing before Christmas Eve. I'll be doing a solo piano version of "Christmas Don't Be Late" off the Goo Goo Dolls Christmas LP with pianist Kevin Urso. We have about a dozen other local performers including EDM producer Grabbitz, The Gorrilla's guest vocalist Drea D'Nur and a host of others, check it out on the GCR Audio YOUTUBE page to see the new piano and get to know these talented Buffalonians spreading some Holiday Cheer! I may even make an appearance as Robby Clause this year, we'll see …. And so will you in next month's column! 
Goo Goo Dolls are preparing for a private show in Hawaii for the new year, I'll be down in advance with my family taking advantage of the exotic location with a little holiday vacation for ourselves. My daughter has never been to The Islands before, so we are looking forward to showing her all that the tropically magical place has to offer! Shaved Ice, Loco Moco, the beach, snorkeling, body surfing the waves, just so much excitement for a young kid! A New Year's Eve and Day in Hawaii is a very special and unique way to spend this usually frigid time of year, so I'm glad we're able to share it together as a family. 
I hope you all have a great New Year, 2021 was a step up from the craziness that 2020 delivered us by way of the pandemic and so many other oddball things related to this unique time in history. But let's keep looking ahead to new music, new experiences and a new year of joy and happiness to share with each other. All the best and I hope you all have health and happiness in 2022 ….. 
Happy New Year and Peace !!! 
Robby 
●グースのサイトはこちら! 
www.googoodolls.com 
●ロビーのサイトはこちら! 
http://robbyslobby.weebly.com/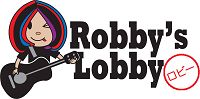 http://www.inrock.co.jp/inrock/new/robby.html